Beacon technology opens new doors to personalized marketing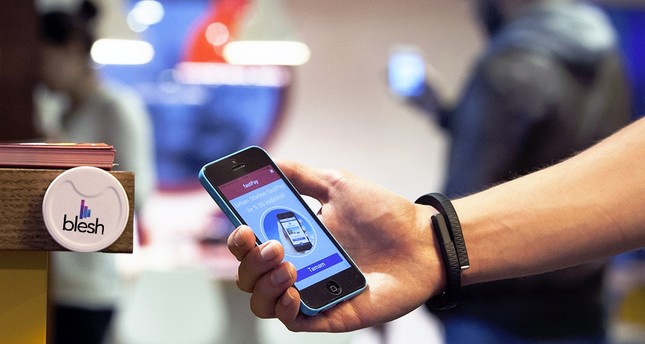 Man showing the mobile app on his smartphone.  initiated their Beacon tech more than two years ago. the number of Beacon users increased from 20,000 to 90,000 in the last two years.
EddyStone Beacons may be tiny pieces of technology, but it helps businesses analyze customer expectations accurately. Developed by an US-based tech firm, this Bluetooth beacon platform opens the doors to new possibilities for retailers
A significant portion of US white-collar workers likes to spend their free time at the mall. At least 41 percent of them drop by the nearest mall to their workplace whenever possible. In addition, out of every 100 white-collars, 35 of them socialize in coffee shops, 31 like to go to restaurants, while 18 percent prefer activity areas. Nearly 61 percent of them own Android phones, compared to 39 percent with iPhones.
These statistics come neither from some government surveillance agency nor from a data breach carried out by a group of elite hackers. This is just the internet of things done right. a US tech startup behind these statistics and it uses a smart piece of technology called "Beacon," to gather all this data.
In general terms, a beacon is a tiny, coin-shaped Bluetooth device which interacts with smart devices e.g. smartphones in close proximity and exchange information with them.
It was one of the first gems invented at the beginning of the internet of things era. Beacon allows businesses to collect extremely precise location data from smartphones and devices to perform an end-to-end contextual communication.
In the beginning, these beacons were tiny coin-shaped devices and could only be installed on walls or floors. But, now they come in different shapes and sizes, ranging from USBs to cards, to beacons embedded in other devices. Beacons have become particularly popular over the last few years, because they made smart devices smarter and helped many businesses with their transition to the internet of things.
"Prior to this technology, businesses were already experimenting with location-based technologies. However, they were not satisfied with the macro-level targeting, which was expensive and would be regarded as spam by many consumers," . "Beacon technology however made it possible for them to interact with customers where it means the most, while they are in their location/store."
Tech saw a big opportunity and began offering advertisers and developers the ability to make context-aware communication through its beacon platform.
Consumer behavior is changing, so are the ways of communicating with them
Today's consumers are always connected. Any business that aims to grab their attention, and then have meaningful conversations with them, has to have a solid mobile marketing strategy with location-based technologies.
With its beacon platform, Tech is offering businesses a way to understand and engage with customers, based on their location. With beacons, businesses that have physical stores or a point of interest are now able to reach passerby customer and guide them through the store and offer personalized deals. Even if a business does not want to interact or have an amazing deal for a specific customer at a specific moment, they can collect their visiting data and target them at a later time.